Sweetly Made Bakery, located on Main Street in Denton's historic district, is a Benedictine business that employs and provides job training for adults with disabilities. In addition to helping prepare freshly made cookies, cakes and breads and handmade gift store items, adults gain community work experience.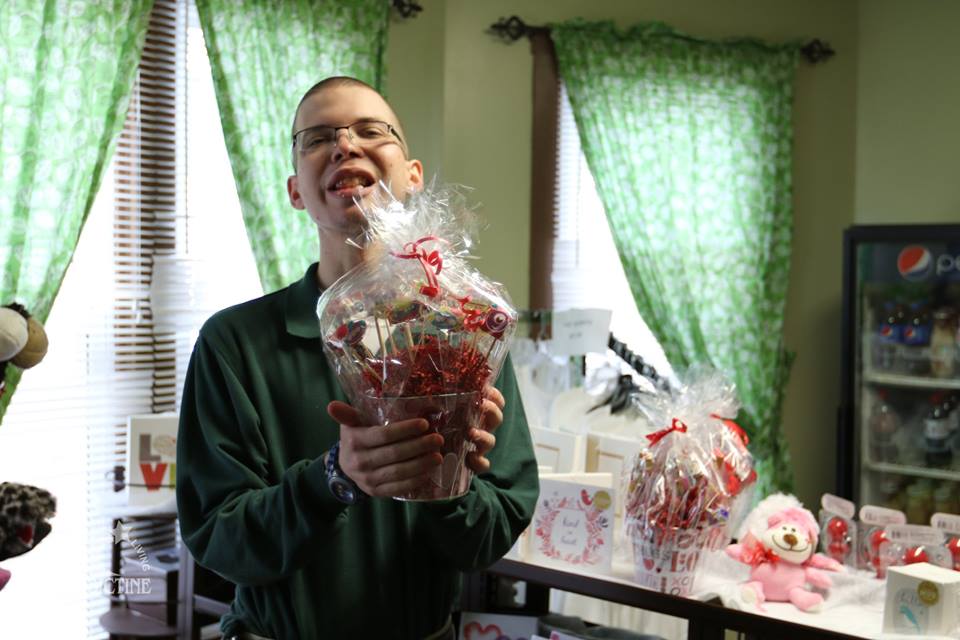 As a part of Benedictine's Adult Services employment and on-the-job training program, individuals focus on learning customer service, inventory maintenance and time management skills. Working at a bakery also comes with a lot of opportunities for fun and creativity.
Over the next few weeks individuals at Sweetly Made will help prepare special Valentine's Day treats. Seasonal creations include an assortment of candy grams and baskets made of Hershey's Nuggets that include a special message. Baskets are filled with lollipops and chocolates but are customizable to include a healthier alternative of trail mix or a movie-themed basket packed with popcorn and treats for a cinema buff, to name a few.
In addition, customer-favorite, chocolate-covered strawberries are available again this year. Arranged in a chocolate dipped wine glass complete with a red ribbon, the strawberries come in milk or white chocolate and are priced at $18 an order. Strawberries are also available without a glass for $1 each. The gift shop also offers unique Valentine gifts such as handmade pallet art, jewelry and blankets.
Stop by Sweetly Made located at 323 Market St, Denton, or call (443) 448-4663 to place an order.