ANNAPOLIS DONOR SHARES HIS STORY
Gordon Schaaf, 82 of Annpolis, says his middle name is "Tenacious." A retired Navy pilot and Benedictine donor, Schaaf has embraced the aging process, learning to snow ski at age 45; scuba diving at age 66, and riding a motorcycle at age 72.
He comments, "I start late, but I don't give up."
After graduating from the United States Naval Academy in 1958, Schaaf became a Navy pilot, flying reconnaissance in the Atlantic looking for Russian ships and submarines during the Cold War. After retiring from the Navy, Schaaf held careers in engineering, real estate and property management.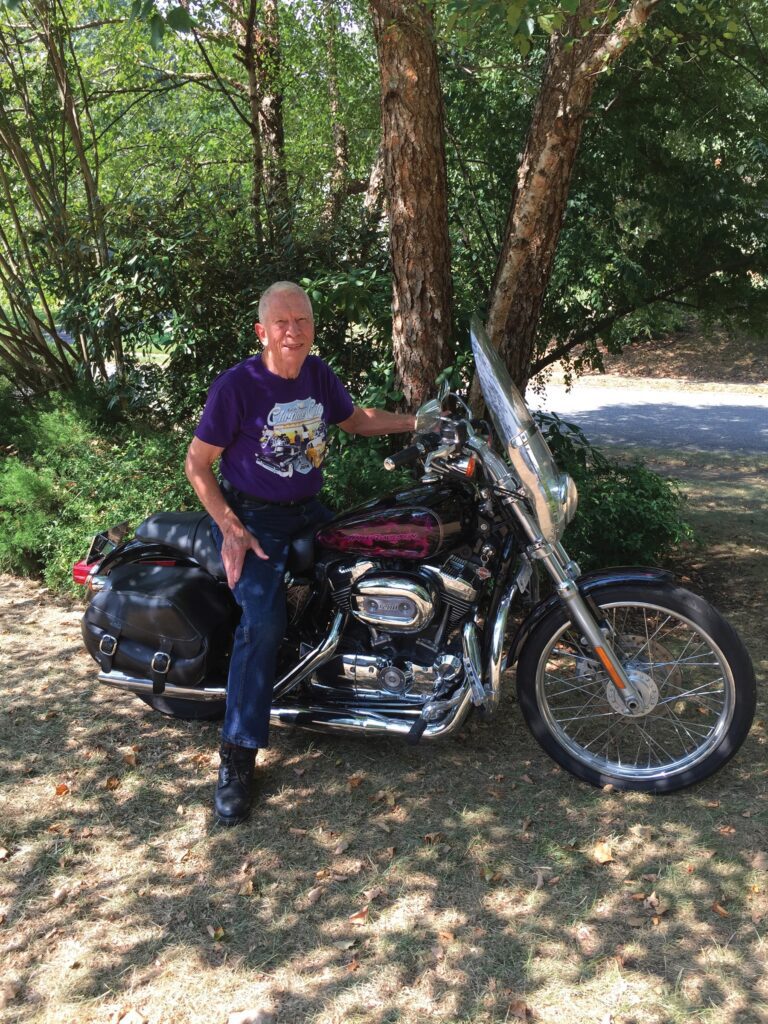 Unlike the fictional character Walter Mitty, who merely imagined his adventures, Schaaf has experienced real adventures that have taken him around the globe. While he and his wife, Ginny. Have taken what he calls "more civilized trips," he has traveled to more remote exotic locations on his own. He has visited 120 countries and his adventures have included hiking and parasailing in the Himalayas, camping in the Sahara Desert, and scuba diving in Vietnam.
He quips, "Once I started, I wanted to do the next thing. My wife and I are fairly healthy for our ages and very mobile. We have led a very interesting life."
When asked what he enjoys doing most, riding his motorcycle is at the top of the list. It took a while for his wife to agree to this new found hobby. She felt his years as a Navy pilot put him enough in harm's way. He never forgot, however, that he wanted a motorcycle and eventually Ginny agreed.
Today, he is the oldest member of the Annapolis Harley Owners Group (Annapolis HOG). The first ride he participated in 10 years ago with the HOG chapter was Benedictine's Chrome City Ride. He recalls, "I thought it sounded like a neat ride over to the Eastern Shore, but I didn't know anything about the charity." He adds, "I remember that Sister Jeannette told us that when we got to the gates of the school, we were supposed to rev our engines so the kids could hear us coming. When our group of 100 bikers got to the gates, we couldn't believe how excited the kids were to see us. It really was touching."
Over the years, Schaaf has continued to participate in the Chrome City Ride and learned more about the School. He states, "I was so impressed at home Benedictine takes care of the children with such personal care. My wife and I understand that being a caregiver is one of the toughest jobs in life. We are currently caring for one of our five children – our 46-year-old son who has leukemia."
The couple's philanthropy extends to other charities – rides his motorcycle in other charity rides including rides for widows of police officers and firemen, as well as wounded warriors. He and his wife, who is a breast cancer survivor, support the Wellness House of Annapolis – a gathering place where cancer patients and their loved ones can learn healthy coping skills.
In addition to supporting Benedictine through the Chrome City Ride each year, Schaaf is an annual donor to the school. He has also donated a Pennsylvania resort vacation package to the School's Spring Benefit auction. He says, "Last year, I arranged for one of my sons to escort my wife to the Spring Benefit. It was the year Cal Ripkin Jr. spoke. He was so excited because she went to school with Cal Ripken, Sr., and she was able to talk to Cal about his Dad."
While Schaaf's wife doesn't ride a motorcycle, they visited Benedictine in October so she could see the campus and meet some of the staff. He states, "The Benedictine School is a special place. I hope my sons, who also ride motorcycles, can one day ride in the Chrome City Ride and support the School themselves."
See the full issue here: