When Abby, age 20, needed to gain valuable job skills after graduating from high school, she turned to Benedictine's Supported Employment Hospitality Training Program to help he transition into her new job with Marriott's Fairfield Inn & Suites in Easton, Maryland.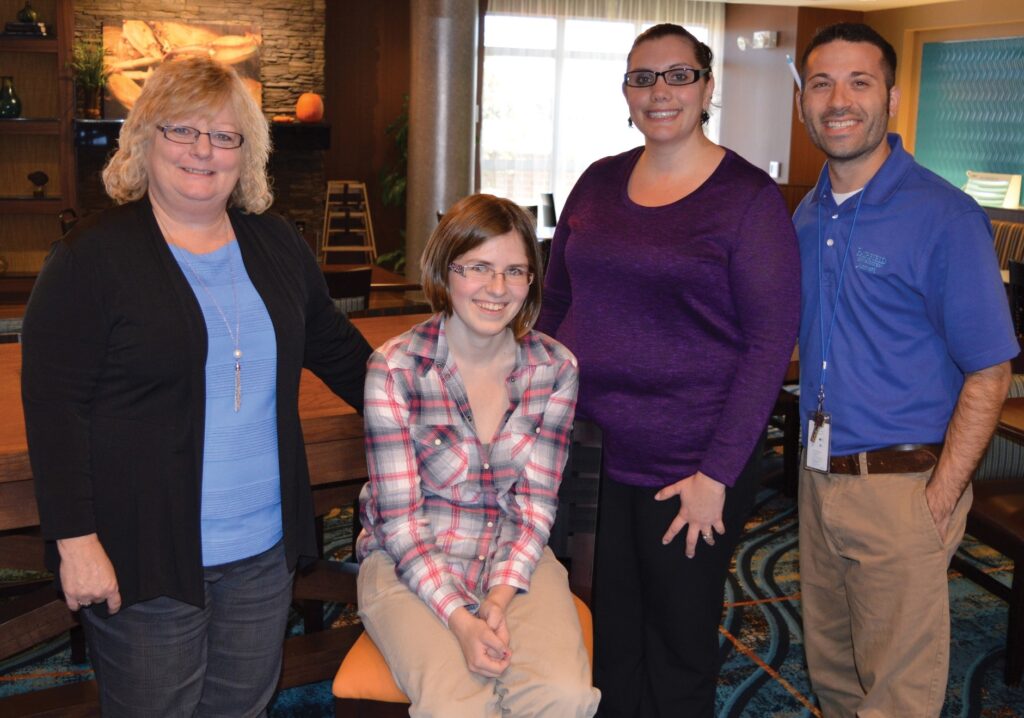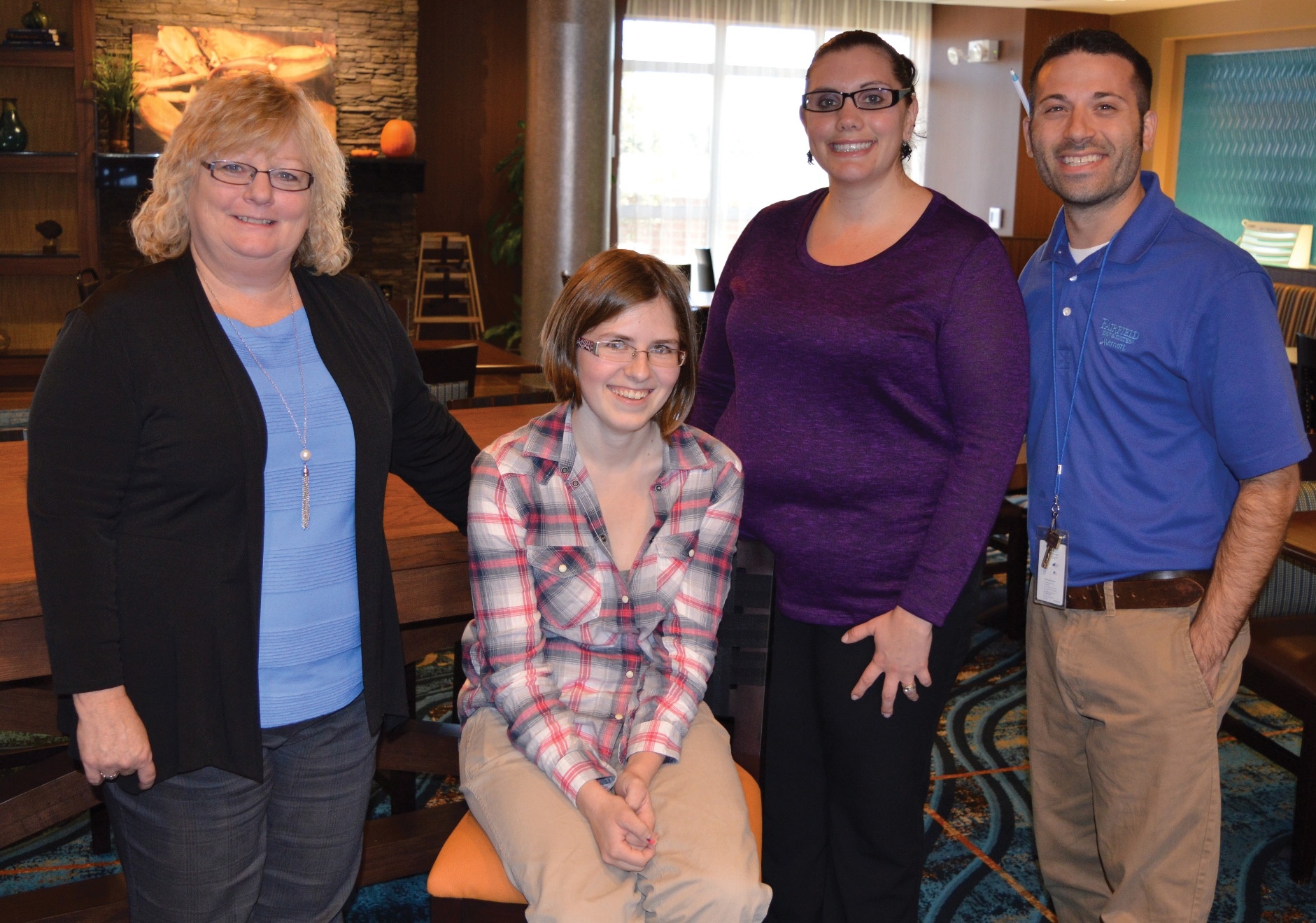 Through a referral from Maryland's Department of Rehabilitation Services (DORS), Abby was able to participate in Benedictine's highly successful eight-week program. The hospitality training program is designed to assist qualified students with disabilities, ages 14-21, who are in high school or who have graduated from high school; who have an Individualized Education Plan (IEP) for their disabilities; and who are living with parents or in the community.
According to Candy Jordan, Supported Employment/ Community Services director at Benedictine, "It is essential that we introduce transitioning students at an early age to the idea of community employment. This jump starts employment options and career planning, which are invaluable to securing and retaining a competitive wage job as an adult.
"Our local business community has offered numerous opportunities for transitional students, who are referred to us by DORS, to gain hands-on experience in the hotel and restaurant industry. We have created wonderful partnerships within our community that offer out students a quality work experience."
Gaffney Shepherd, Benedictine's program lead for DORS-funded programs, adds, "Initially parents are often nervous to have their children training out in the community, but when they see what the students have accomplished, it gives them hope for their futures."
Since the program began over five years ago, Benedictine has been able to partner with a number of hospitality and retail businesses in communities across the Mid Shore. The Hospitality Training Program partners with the Hyatt Regency Chesapeake in Cambridge, the Masthead in Oxford, Denny's in Easton, Knoxie's Table at the Inn at Chesapeake Bay Beach Club in Stevensville, and Marriott's Fairfield Inn & Suites, among others. Through two-hour visits with their job coaches' to these sites, students explore the employment skills needed for a career in the hotel and restaurant industry.
At Fairfield Inn & Suites, the students enjoy a very interactive experience. Because of the students' performances, they have been invited back to the hotel time and time again – several gaining employment with the Inn. According to Dr. David Hill, owner of Hill Hospitality, which manages the Fairfield Inn & Suites, "I have always had a great admiration for the Benedictine School going way back in time. Sister Jeanette did an amazing job and the facility continues to uphold the highest standards. I feel very privileged to work with members of the Benedictine community.
Waitman Vandorsdale, general manager of Fairfield Inn & Suites, comments about Benedictine student Abby, "She is a wonderful person and a great asset to our team. Abby has been well received since she arrived and continues to be a dependable employee and always has a smile on her face."
Tara Crutchley, Abby's job coach and a Benedictine employee who serves as a DORS associate, helps her students settle into their jobs and figure out their transportation to and from work. She comments, "Abby showed independence at the hotel right away. I believe this is because of the Hospitality Training Program at Benedictine."
At Knoxie's Table at the Inn at Chesapeake Bay Beach Club, Executive Chef Paul Shiley took an intimate role in the hospitality training for Benedictine students, sharing his state-of-the-art kitchen and tips about in-house baking, prep work in the kitchen, and how to get the dining room ready for customers.
Benedictine's Retail Training Program, has also successfully introduced students to employment opportunities partnering with such businesses as the Dollar General, Kent Island; Treasure Cove Thrift Shop, St. Michaels; and the Tilghman Island Country Store, among others. At Rommel's ACE Hardware in Chester students learn how to operate the cash register, size, fold and stock merchandise; check merchandise for expiration dates, and properly display merchandise in stores.
Both programs are offered alternately throughout the year, giving students the opportunity to explore their interests and gain important job skills.
At the conclusion of the eight-weeks in the program, students participate in a graduation ceremony receiving a certificate and the knowledge of best job skills. DORS then continues to support providing the students with work readiness skills and assistance with resume writing and job applications. The result- many Benedictine students with developmental disabilities are hired in the community.
Fairfield General Manager Waitman Vandorsdale was one of the many on hand for the recent hospitality training program graduation ceremony presenting the students with Fairfield Inn & Suites charter member pins. When Abby was offered her pin that day, she was also offered a job with the hotel.
She recently remarked, with a big smile on her face, "I enjoy having a job and working here. After a month they have already offered to add another day to my work schedule."
See full issue of Inspired Giving, Fall 2016