By: Mary Lynn Wright and Beth Mathis
In the mid-1980's, student's vocational training prior to age 18 was almost non-existent. More capable students were able to work for the Busy Bee Cleaning Program and for the Laundry. Less able students did repetitive sorting tasks in the classroom. After each task was completed, it was "disassembled" (usually in front of the students), and put away to be re-done the following day.
We started in 1986 in the Work Activities II classroom, with one contract from Dixon Valve in Chestertown to assemble various sized pressure clamps, consisting of putting two halves of clamp together using 4 nuts and bolts. At times, more students were needed to meet the deadline.
What we saw was that ALL of the students, both those working in more complex jobs already and those who had been doing the same sorting tasks day after day, were excited to be doing something that they knew was for another business, and for which they got paid. Students would go with staff to the factory to deliver the completed products and to pick up raw materials for the next week. They received much praise and thanks from the business owners. Within a few months, nearly every student in the school was asking if they could help! The knowledge that they were being productive, and the sense of accomplishment they felt for a job well done was unbelievable. Some of the money the students earned was used to buy videos for the dorm (videos cost $50.00 back then). Students were able to choose what they wanted, and tell their parents they helped pay for the movies!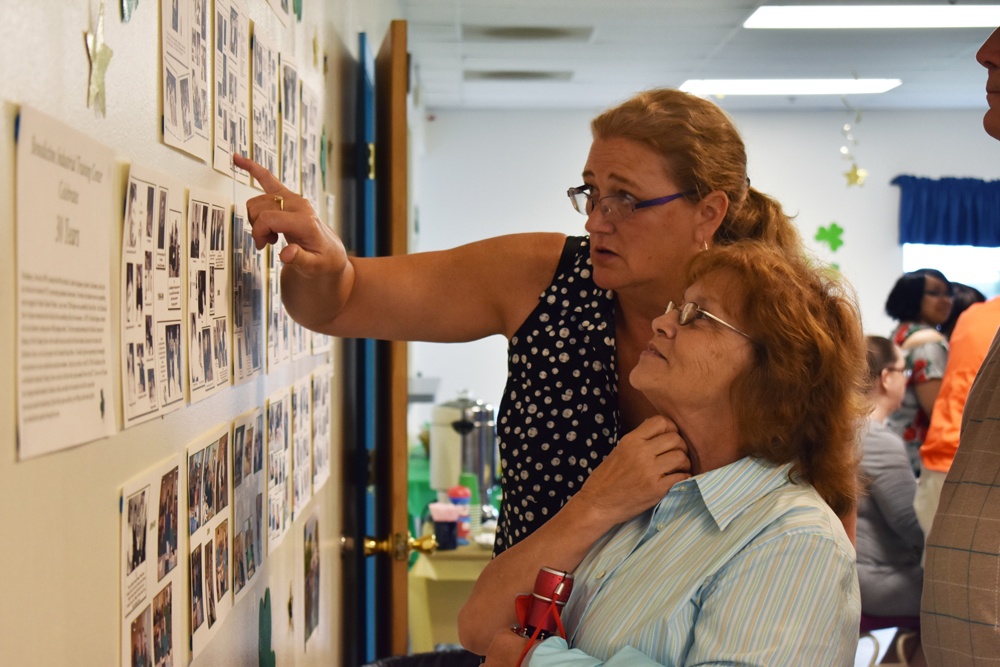 We soon got another contract with a company that was making goggles for the military to be used in Operation Desert Storm. We were sub-contracted to cut and "finish" and put buckles on 3,000-10,000 straps per week. We gradually started scheduling students from other classes to come to the Work Activities classroom for regular vocational training. We broke the task down into multiple steps, so everyone could contribute to complete the projects. At times, the more experienced students would sit down and train the "new kids" in learning a task—-it was a sight to behold. It made the new kids feel special to have their peers working with them, and more experienced students learned patience and kindness. This was also the first time, for most of them, that they had been given a leadership role. The growth in their self-esteem was wonderful to watch.
We eventually had four separate contracts (additional jobs from Black and Decker and Celeste Industries), as well as making custom door mats for friends, family and local businesses. We had heat sealing machines in the classroom, and piles and piles of crates and boxes full of raw and finished materials. Work materials were literally stacked to the ceiling. Work Activities II went from being the classroom for students who "couldn't do much", to the most desired class for all students. At times, we would have 20 or more students, all working on 3 or 4 different contracts.
By 1987, we had outgrown the classroom, and Sister Jeannette began talking about building an area dedicated to vocational training for all students from age 14 and up. Where Graphics is now was the original ITC site. It was custom designed by staff to maximize the amount of work space, storage space, and number of students who could work there at one time. There was small area for the Screen Printing Department and the rest of the building was open floor work space for the various contracts we had. The ITC and Screen Printing areas now became formal work training stations for School students. It was also used as a very important tool to motivate and calm students with challenging behaviors. The therapeutic value of the work was very helpful. In addition to the School students, adults from the Open Community Program worked in the ITC every day as their Vocational Training placement. This was a new opportunity for them, and led to the same kind of growth and maturity that the school students had shown.
In the early days of Screen Printing, all art-work was done by hand, exposed to film using a camera in the dark room onto ruby lift film, and then exposed to the screens to develop the imagine onto the screens. We went out into the community, to schools and businesses, to ask them to commit to purchasing promotional shirts, mugs, etc., through us. One by one, more businesses had us doing their work. There were several years early in screen printing when our reputation was not great—-the shirts faded after 2 or 3 washings. Eventually the quality really took off, and so did contracts from within the community.
The other contracts continued to grow and flourish. Again, as both areas grew, a new building was needed and built, which is where ITC is today. ITC purchased the truck to offer delivery services of the product. Wheaton, Bubbles, Celeste Airline kits were locked in for the future. Konsyl continued to grow. ITC's reputation for consistent quality assembly services led to continued success and strong relationships between Benedictine and the customers that remained throughout its operation.
As we close this chapter, thanks to all who made it such a successful program and with benefits to everyone involved. The ITC is truly something worth celebrating.