Dominic Marinucci was presented the Maryland Association of Community Services (MACS) Achievement Award on Wednesday, May 23rd at a ceremony in Baltimore. The MACS Achievement Awards is an annual event where awards are presented to individuals who receive supports. The award highlights the personal achievements of people in the disabilities community in the following areas: personal accomplishment, professional accomplishment, volunteer accomplishment, volunteer activity, contribution to community.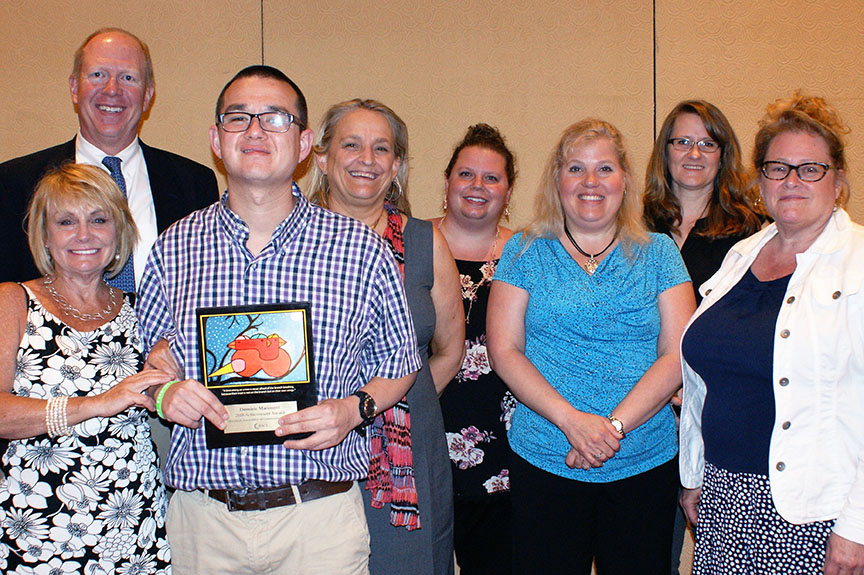 Award Citation:
"Dominic Marinucci is a man of many accomplishments. He will proudly tell you about all the jobs he has had. For almost 10 years Dominic has worked a variety of positions with employers on the eastern shore. From peeling potatoes at a campground kitchen, to sorting materials at Infinity Recycling, to score keeping for local youth sports, to preparing donated boats to sell at the Chesapeake Bay Maritime Museum, Dominic works hard and quickly makes himself invaluable in the workplace. In fact, in September 2017, Chesapeake Bay Maritime Museum recognized his contribution with an award at their 20th annual charity boat auction. He is delighted to return to this seasonal job in June 2018. The score keeping job was also a favorite, matching his love of lighting systems with paid employment. When asked about this experience, Dominic described the season of score keeping as one of his favorite jobs. Dominic continues to explore work interests and recently completed an apprenticeship with Dixon Electric. In this role he worked with professional electricians learning wiring basics and of course hanging lighting.
In addition to his busy and varied work schedule Dominic finds time for community and civic engagement. He volunteers at the Talbot County Humane Society every Wednesday for over 7 years. Dominic is also active in local self-advocacy. He has attended the DD Day at the Maryland State Legislature for the past several years and maintains an interest in state policy. He welcomes the opportunity to discuss the issues with members of the Eastern Shore Delegation over lunch during session.
Dominic is very deserving of a MACS Achievement Award for Professional Accomplishment and Contribution to Community."