Benedictine staff and clients joined a record 800 supporters who came together to educate and advocate during Developmental Disability Day at the Legislature 2018, Thursday, Feb. 22 in Annapolis.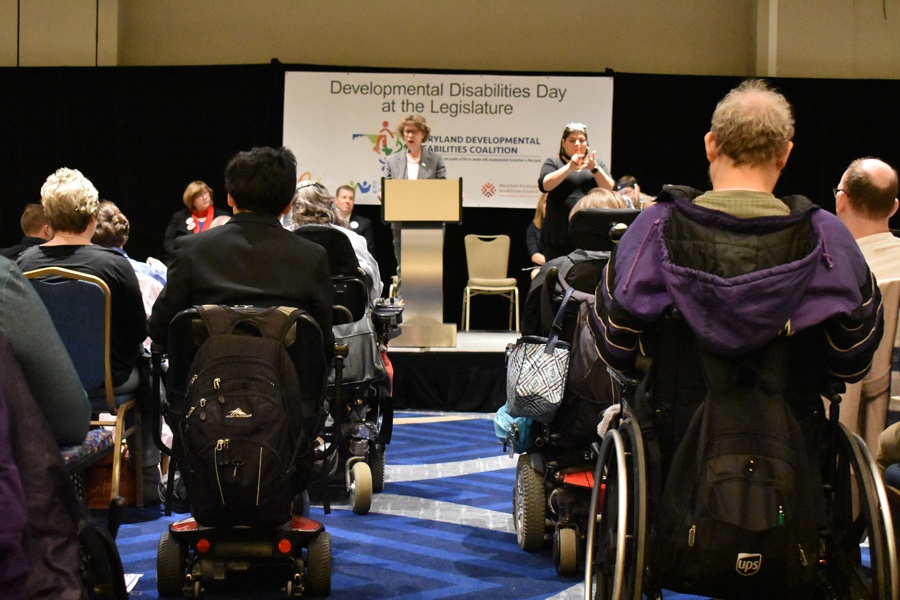 The annual event is sponsored by the Developmental Disabilities Coalition which is comprised of five organizations that are dedicated to the rights and quality of life of Marylanders with developmental disabilities.
State leaders and legislators addressed members of the developmental disabilities community including individuals, their families and support staff, to share in their commitment to helping individuals with developmental disabilities receive the support they need to live and work in the community.
The day's event kicked off at the Lowe's Hotel in Annapolis with remarks by Senator Thomas "Mac" Middleton and Maryland Secretary of Disabilities Carol A. Beatty, among others.
With a mission of advocacy, Benedictine staff including Executive Director Scott Evans and Director of Adult Services Beth Mathis, direct support professionals and individuals from Benedictines programs and services, joined the crowd of supporters who then met with state leaders at the Miller Senate Office Building.
Senator Adelaide C. "Addie" Eckardt, Delegate John F. "Johnny" Mautz IV and Senator Stephen S. Hershey Jr. visited and engaged with Benedictine individuals.