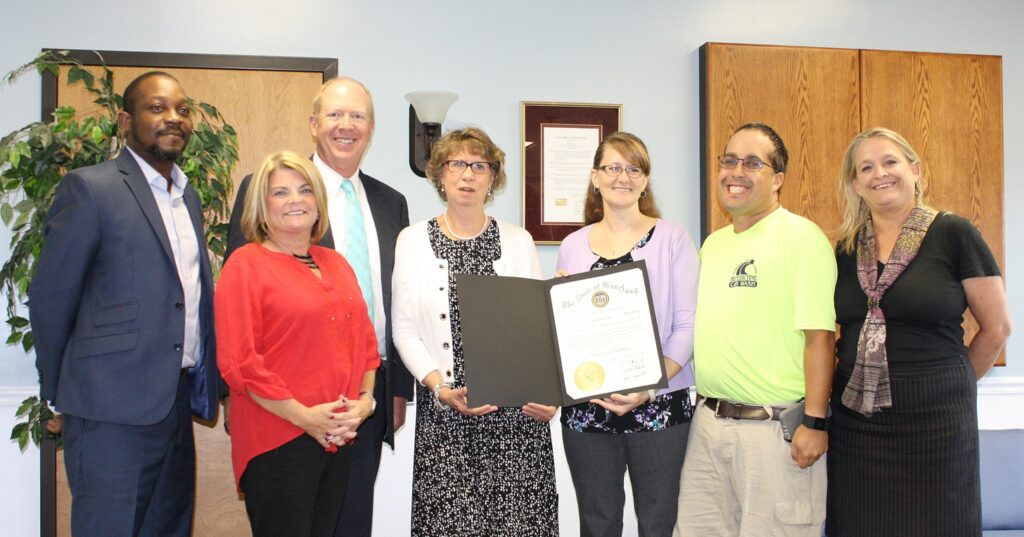 Every day, direct support professionals touch the lives of those for whom they care. The more than 200 DSPs who work for Benedictine Programs and Services are no exception.
On Thursday, Sept. 21, in honor of Direct Support Professional Week in Maryland, Carol A. Beatty, secretary of the Maryland Department of Disabilities, visited Benedictine to recognize DSP Colleen Voss. Voss was presented with a governor's citation for her work to support Benedictine's mission to help children and adults with developmental disabilities achieve their greatest potential.
Beth Mathis, Benedictine's director of Adult Services, explained the role of DSPs who work for the nonprofit.
"I have the utmost respect for the complexity of the work that they do," Mathis said. "DSPs must be able to think on their feet and plan ahead. They need to be able to know when to offer advice and guidance, and when to step back and not interfere. They have to balance adhering to regulations with advocating with people for changes or exceptions to the rules. They listen to families. They manage and mediate conflict, and they help people realize dreams. They are counselors, teachers, companions, and cheerleaders."
During her visit, Beatty said she began her career as a DSP.
"We are traveling around the state to recognize people who are doing really exceptional work on behalf of Marylanders with disabilities," Beatty said. "Gov. Hogan also recognizes the importance of this workforce and sends his thanks and his gratitude."
Gaffney Shepherd, Division of Rehabilitation Services team lead for Benedictine Programs and Services, introduced Voss before she received her citation.
"She makes an effort in every way to connect with the people around her," Shepherd said of Voss. "She is a teacher, a friend, and fiercely takes any avenue that she can to help people with disabilities accomplish integrated, competitive employment of choice."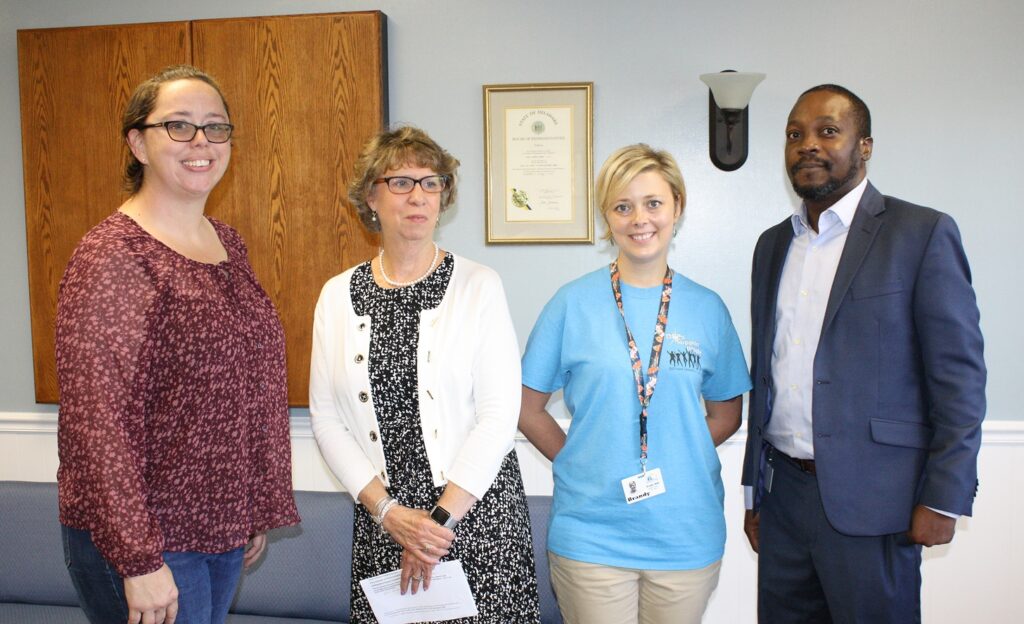 Voss worked for years in special education in Illinois before moving to Maryland with her family in 2015 and joining Benedictine. She said she was speechless when she heard she would soon receive the governor's citation.
"I really feel like I found a home here. I really feel like I'm a part of the family," Voss said. "Every day, I have a great time working with the adults, supporting them. They're so capable of so much, and I really am honored that I get to work with them, and help them to go out into the community and do the best that they can. I just hope that I can do the best that I can to support them. … I'm very grateful for the opportunity to be part of the Benedictine family."
Benedictine Executive Director Scott Evans explained just what DSPs mean to the organization.
"DSPs are the backbone of this organization," Evans said. "Having that personal touch is what it's all about. That's where everything starts and ends with our programs."
Adedapo Laditan, director of Quality Enhancement for Maryland's Developmental Disabilities Administration Salisbury office, thanked Benedictine's DSPs for their quality of care.
"Benedictine is a leader in terms of providing the supports that our folks with disabilities need and deserve," Laditan said, "For so many years, we've had a good relationship. We hope to continue that, and support you in whatever way we can. … Thank you for what you do."
Providing opportunities to live meaningful, productive lives in communities of choice, Benedictine helps children and adults with developmental disabilities reach their greatest potential without regard to race, religion, color, national origin, or age.