Benedictine awarded Freas Foundation grant to develop multi-sensory environment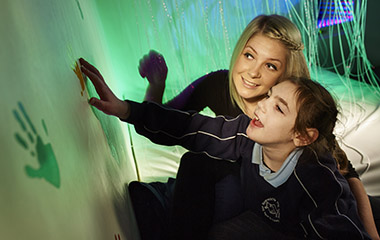 Benedictine received $7,500 to fund a Multi-Sensory Environment Center on the School's campus in
Ridgely, Maryland. The grant, awarded by the Freas Foundation of Julian, Pa., will support the purchase of various therapeutic equipment needs for the creation of the Center. A sensory learning environment will enhance Benedictine's ability to serve the needs of students presenting with Sensory Processing Disorder.
A growing number of Benedictine School's students exhibit Sensory Processing Disorder complicated by developmental and intellectual disabilities and autism and have trouble receiving and responding to sensory input from the environment. This disorder impedes an individual's ability to participate in academic learning as well as day to day life in a sensory-rich world.
According to Julie Hickey, education director at the Benedictine School, "the new Multi-Sensory Environment Center will be managed by a team of therapists to help students learn to process sensory input and self-regulate. The Freas Foundation grant supports the purchase of specific equipment and materials designed to stimulate student's senses in a safe, interactive setting including a fiber optic curtain, fidget toys and pillows as well as room renovations," she noted.
Centrally located within the Benedictine School, the Center will be accessible to all students during school or residential time. Through monitoring and support the Center will allow students to self-select the sensory input needed in a safe setting.
Benefits typically seen from a multi-sensory environment include decreased stress, increased communication, increased cooperation, and increased focus, which helps promote self-choice and enriches overall quality of life. The ultimate goal of the Center is to allow students to begin to learn to self-regulate, eventually generalizing this skill to their classroom, residences, and community.